Korting
U ontvangt korting als reseller van WiMood.
Staffelprijzen
| | | |
| --- | --- | --- |
| Orderwaarde | Aantal | Prijs |
| > € 0,00 | > 0 | € 420,10 |
Universal Arm Bracket
Flexibele muurbeugel.
Voor 17:30 uur besteld, dezelfde werkdag verzonden
Twee jaar garantie op Ubiquiti & MikroTik producten
Gratis verzending op orders boven de € 200 in NL en BE
Ubiquiti UISP airFiber 60 HD
SKU: AF60-HD EAN: 0810010076113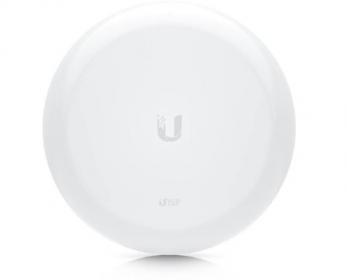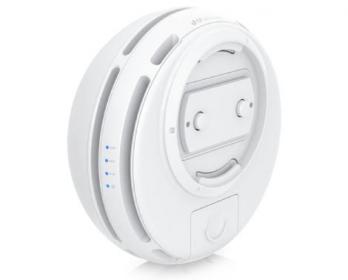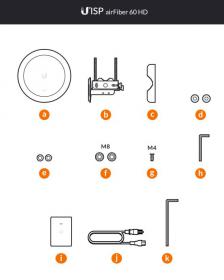 Omschrijving
Draadloze Multi-gigabit, 60 GHz brug met SFP+ ondersteuning.


De airFiber 60 HD (AF60 HD) is een 60 GHz-radio die is ontworpen voor maximale snelheden bij mid-range, point-to-point (PtP)-verbindingen tot max 2 km. De AF60 HD levert een doorvoer met lage interferentie en lage latentie binnen het 60 GHz-spectrum.
Compact en zeer duurzaam, de AF60 HD beschikt ook over geintegreerde GPS en een Bluetooth-beheerradio om de installatie, configuratie en bewaking te vereenvoudigen. Deze brug is ideaal voor ISP's die de signaalverbinding willen maximaliseren met kosteneffectieve apparatuur.
Low-interference 60 GHz spectrum
Up to a 2 km link range* (*This distance is unrealistic due to European restrictions. We advise calculating the link distance).
Supports channel bonding to achieve up to a 6 Gbps throughput rate
(1) 10G SFP+ port
Terragraph-certified
Integrated GPS
Link planning support via ISP Design Center
Simple, Bluetooth-powered setup with the UISP Mobile app
Managed with UISP application (previously UNMS): Version 1.4.0-beta.10 and higher.
Specifications
Dimensions:
Diameter 189 x 89 mm
Weight:
Without mount:
With mount:

1.8 kg
2.95 kg
Enclosure materials:
Aluminum alloy, UV stabilized plastic
Mount material:
Stainless steel (SUS304)
Mount:
60G precision alignment pole mount (included)
Wind loading:
64 N at 200 km/h (14.39 lbf at 125 mph)
Weatherproofing:
IPX6
Hardware
Processor:
Quad-Core ARM Cortex A72 at 1.6 GHz
Memory:
2 GB DDR4
Networking interfaces:
(1) GbE RJ45 port
(1) 1/10G SFP+ port
Button:
Factory reset
RF connections:
Internal
Max. power consumption:
29.31W
Power method:
Passive PoE 4-pairs (1, 2+; 3, 6-) (4, 5+; 7, 8-) or 2-Pairs (4, 5+; 7, 8-)
Power supply:
48VDC, 0.65A gigabit PoE adapter (included)
Supported voltage range:
48VDC +/- 10%
Operating temperature:
-40 to 55° C
Operating humidity:
5 to 95% noncondensing
Certifications:
FCC, IC, CE, terragraph
LEDs & System
Power:
Flashing white: bootup in progress
White: not connected to UISP console
Blue: connected to UISP console
Ethernet:
Flashing blue: ethernet activity
GPS:
Blue: receiving at least (4) GPS satellite signals
60G:
Blue: active connection
Maximum throughput:
60 GHz: 3.8 Gbps/6 Gbps (with channel bonding enabled)
Maximum range:
2 km*
Encryption:
WPA2-PSK (AES)
Uplink/Downlink ratio:
50/50
(*This distance is unrealistic due to European restrictions. We advise calculating the link distance).
Software & RF
OS:
airFiber
Modes:
PtP only
Services:
UISP, ping watchdog, web server, SSH server, NTP client, system log, device discovery
Utilities:
Beamform info, discovery utility, ping, trace route, speed test
Network:
Bridge mode
Wireless settings:
GPS sync*
*GPS is used to populate UI/UX elements.
Management interface:
Bluetooth management for easy setup over UISP app
WEB UI
Minimum software requirements:
Any modern WEB browser/iOS or Android based smartphone
Operating frequency:
57 to 66 GHz
GPS:
Yes
Channel bandwidth:
2160 MHz/4320 MHz (with channel bonding enabled)
Operating channels:
58320, 59400, 60480, 61560, 62640, 63720, 64800 MHz
Beamwidth:
HPOL: NaN (the antenna is only vertically polarized), VPOL: 3 degree, Elevation: 3 degree
Electrical downtilt:
0 degree
Package Contents
AF60-HD, Mounting set, Screw set, 0.65A gigabit PoE adapter, Power Cord.
2 op voorraad, vandaag verzonden
Toebehoren

Levertijd onbekend
Waarom zou ik dit product bestellen?