Korting
U ontvangt korting als reseller van WiMood.
Staffelprijzen
| | | |
| --- | --- | --- |
| Orderwaarde | Aantal | Prijs |
| > € 0,00 | > 0 | € 1.301,00 |
Voor 17:30 uur besteld, dezelfde werkdag verzonden
Twee jaar garantie op Ubiquiti & MikroTik producten
Gratis verzending op orders boven de € 250 in NL en BE
Ubiquiti AirFiber 5, 1Gbps+ Backhaul, 5GHz
SKU: AF-5 EAN: 0810354022067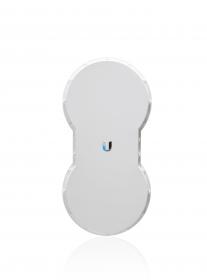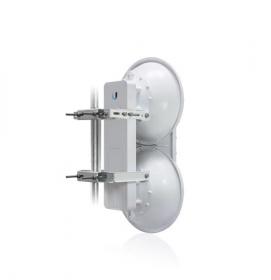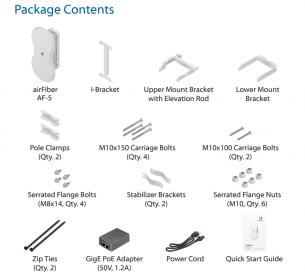 Omschrijving
The mid-band mode AF-5 features the popular mid-band frequencies, which are freely used in many parts of the world. The AF-5 is available for the 5 GHz spectrum.


Superior Processing
Ubiquiti Networks introduces our proprietary INVICTUS core communications processing engine. The speed, power, and efficiency of this integrated circuit enhances the performance of
the airFiber AF-5
.
Efficient Use of 5 GHz Band
AirFiber AF-5
features 1 MHz center channel resolution with market-leading Power Envelope Tracking technology.
The airFiber AF-5
accurately and continuously controls transmit power relative to the band edge. The power level automatically tracks to optimize performance near band edges, allowing you to choose the part of the band with the least interference.
Long-Range Links
Newly developed for
the airFiber AF-5
, the patent-pending xRT feature uses an innovative, adaptive multi-channel coding scheme to enhance radio transceiver performance, thereby maximizing your link budget and spectrum utilization - while still maintaining regulatory compliance. This results in links that can span distances from 10 m up to 100+* km.
(*This distance is unrealistic due to European restrictions. We advise calculating the link distance.)
Quick and Easy Installation
The unique sliding-clamp design of
the airFiber AF-5
allows mounting hardware to be pre-assembled prior to installation - no more dropped screws at the top of the tower. As an added convenience, the drop-in cradle mount design allows the installer to attach mounting hardware to the pole without having to support the weight of the airFiber radio during installation.
Radio Alignment Display
Newly designed for the airFiber
AF-5
, the Radio Alignment Display (RAD) makes aiming quicker and easier. The dual, calibrated signal strength indicators display the actual signal strength on the local and remote airFiber radios in real time. The comprehensive array of radio status indicators display the following:
GPS synchronization status
Master/slave mode
RF link status
RF overload warning
Current modulation mode
Link activity and speed for wired management and data ports
Specifications AF-5
Dimensions:
- Radio: 938.4 x 468.4 x 281.4 mm (36.94 x 18.44 x 11.08")
- Box: 1042 x 573 x 502 mm (41.02 x 22.56 x 19.76")
Weight:
- Radio (Mount Included): 16 kg (35.27 lb)
- Box:26.5 kg (58.42 lb)
Max. Power Consumption:
40W
Power Supply:
50V, 1.2A PoE GigE Adapter (Included)
Power Method :
Passive Power over Ethernet
Supported Voltage Range:
+42 to +58VDC, -48VDC
Automatic Transmit Power Control (ATPC):
Yes
Certifications:
CE, FCC, IC
Mounting:
Pole Mount Kit (Included)
Wind Loading:
863 N @ 200 km/hr (194 lbf @ 125 mph)
Wind Survivability:
200 km/hr (125 mph)
Operating Temperature:
-40 to 55 C (-40 to 131F)
LEDs:
Data Port Link/Activity, Data Port Speed, Management Port Link/Activity, Management Port Speed, GPS Synchronization, Master/Slave, Link Status, Modulation Mode 0.25x to 4x, 6x, 8x, 10x (Unlabeled), Overload, Remote and Local Displays (Calibrated Signal Strength)
Data Port:
(1) 10/100/1000 Ethernet Port
Management Port:
(1) 10/100 Ethernet Port
Auxiliary Port:
(1) RJ-12, Alignment Tone Port
Maximum Throughput:
1.2+ Gbps
Maximum Range:
100+ km (
(*This distance is unrealistic due to European restrictions. We advise calculating the link distance.)
Packets per Second:
1+ Million
Encryption:
128-Bit AES
Uplink/Downlink Ratio:
50% Fixed
Radio Frame Synchronization:
GPS
Dynamic Frequency Selection:
CE, FCC/IC
MTU (Maximum Transmission Unit):
Up to 9600
Package Contents
airFiber AF-5, I-Bracket, Upper Mount Bracket with Elevation Rod, Lower Mount Bracket, Pole Clamps (2), M10x150 Carriage Bolts (4), M10x100 Carriage Bolts, Serrated Flange Bolts (4), Stabilizer Brackets (2), Serrated Flange Nuts (6), Zip Ties (2), GigE PoE Adapter (50V, 1.2A), Power Cord, Quick Start Guide.
* Indien dit product boven de toegestane limieten gebruikt wordt, is dit niet langer vergunningsvrij en zelfs illegaal (max zendvermogen: 100 mW op 2,4GHz en 200 mW op 5GHz). Wij raden u aan de standaard configuratie v.w.b. de landeninstelling en/of vermogensinstelling van de apparatuur niet te wijzigen. Het gebruik van meer dan het wettelijke toegestane vermogen kan leiden tot verminderde bruikbaarheid van WIFI in uw onmiddellijke omgeving.
1 op voorraad, vandaag verzonden